As always, any of the artistic abilities can come to you naturally because you may be a prodigy or you will have to do this the old fashioned way, which is, by practicing hard. Now, when it comes to musical instruments, other are just plain hard to play and others like the piano will take less time and less effort.
The piano could very well be the easiest instrument to play. This is because the keys are arranged sequentially and it is not hard to cram them in their order. Very soon you will be playing without even looking at the keys.
Here Are the Steps To Playing Like A Pro
Get a Piano And The Accompanying Aids To Learning
You should be able to get yourself a piano that you can practice with at home anytime that you want. This is because, you will be having convenience and you won't have to go anywhere to learn. But if you can't get one, at least make sure that you will have access to one. Get the proper bench to sit on because it is important.
Have A Proper Sitting Posture
Playing easily will happen if you get a seat where you will be seated properly. When you have established a god sitting posture, your elbows and hands should be parallel to the floor and your back should be straight.
Check Your Fingers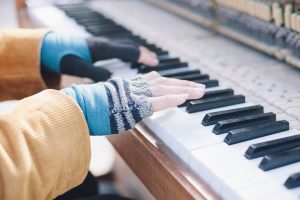 They should all be resting on a white key. That way, you can have access to the whole sequence that you need to have. The C note will be the one that you thumb should be on and then the rest follow. You will start by learning the keys at the center of the keyboard or piano and the rest can follow.
Learn The Sequence
The sequence is easy starting from doh, reh, mi, fa, soh, lah, ti, do. That is the complete sequence of notes that the piano avails to you and then you can now manipulate them and learn where each one of them rests. That way, you can play without mixing up the keys.
Learn Simple Tunes
These can be hymn book songs, carols and other common tunes that will be easy to play before you proceed on to learn the scales. Simple tunes will make you aware of the keys positions and you can memorize them where they are.
Teach Yourself The Scales and Harmony
Scales are the gradual move up the ladder of notes and it will help flex your fingers and make you aware of where each key is. After that, you can learn to harmonize the notes so that they work together to produce the best sound. This way, you can produce the complex tones.
Practice More
When you are learning how to play, you will need to play more and more until you get the notes just right. For example, you will have to learn how to play one tune with one hand while the other is picking out another different tune that blends with the first one. Using the pedals is also another aspect that you will learn for dampening the notes and making them resonate as required.
In Conclusion– The art of playing the piano may not be the easiest but it sure is not very hard, especially if you are hardworking. Compared to the wind and string instruments that need plucking, you have better chances of playing the 'Fur Elise' than mastering 'Enter Sandman'.