Now more than ever, the world is moving towards video content. In fact, videos are said to greatly exceed written content in the amount of traffic they generate. However, that's not the end.
It takes creativity to create excellent video material for advertising campaigns and social media.  Creating video material from scratch, on the other hand, is a challenging and time-consuming task. And this is the solution OFFEO provides. 
You can quickly generate clips for your needs using Offeo Video Maker in a short period. Although the platform seems to be basic, it features several useful capabilities. In less than three minutes, you can make an excellent video of your product.
Videos that get the most engagements are those that have been put together meticulously and expertly edited. And that's where the OFEEO online video editor comes in.
The OFEEO online video editor is a video editing app that helps you edit videos like a pro. Not just that, but it teaches you how to create a web-based video for social media platforms like you were a Motion Graphics expert. Cool, right?
OFFEO Review
In this review, I will show you all you need to know about this highly versatile tool and walk you through its downsides and upsides. All to the end that you can make an informed decision around the product. Ready? Let's go!
There are many platforms to promote your company or product through video content, but as you know, that's the easy part. If you have a ready-made video, you don't need to have sleepless nights on how to promote it and make it convert. The major problem is in creating the video content and then editing it. In the course of making your videos, too, you'd want to ensure that they are good enough to place you far beyond your competitors. The last thing you want is for your content to be shady as against that of your competition which is excellent.
To do all these, people usually employ the services of a professional. Now trust me, those folks don't come easy. They charge a lot, and in all honesty, they have every reason to. That is because doing all the OFEEO online video editor can do without the OFEEO online video editor would take hours of diligent work and lots of resources. But the good news is that with the OFEEO online video editor, you can do just fine without those guys.
What is the OFFEO online video Maker?
The OFEEO online video editor is all about profit and internet marketing for businesses. In other words, the OFEEO online video editor prioritizes the effectiveness of sales through quality videos. It is a video editing tool that helps individuals and video marketing agencies create interesting and sleek videos for marketing and video content promotion purposes.
Offeo is a web-based video animation tool for businesses and individuals. Anyone can generate studio-quality short promotional films of any size using the Offeo drag-and-drop system. They can be customized to perform on your website and any social media network, including YouTube, Instagram, Facebook, Twitter, Linkedin, Pinterest, and Tumblr.
Top Features of the OFFEO Video Maker Platform
Knowing, on the surface level, that a program is capable of doing a lot is never enough. Before you go ahead to get a tool or leave another for it, you have to be sure of its features and every bit of thing that stands it out. That is why I've taken the liberty to gather for you the features of the OFEEO online video editor. Here they are:
Multiple Instant Designs
In the ready-to-use method, there are around one thousand instant designs available as models for your upcoming projects. This feature can be considered one of this tool's main attractions because it allows thousands of designs to be produced by the user using the same image. All you need to do is upload your picture and get your options. The templates are categorized into different groups, such as e-commerce templates, templates for intro makers, etc.
On-Brand Designs:
The tool enables the consumer to create content customized to the theme and colors of their brand. It is also used to spread brand recognition with a strong online brand presence that attracts new clients with memorable brand designs in the world. This feature also guarantees that content or resources will never run out of the user to update your socials.
One-click animation
The tool allows you to perform animation with a single click. No separate skills are required to perform the task.
Common Languages Help
This online video tool is also highly appreciated for promoting common languages that will help you communicate with a broader range of audiences and get sales and website traffic.
Logo Animation
The corresponding online video platform for logo animation is often used by a variety of marketing agencies. So, it will definitely help you boost your picture of the brand. There are a number of marketing agencies also using the respective online video tool for logo animation. So, it can certainly help you enhance your brand image.
Full Creative Control
While doing the OFFEO analysis, it was very obvious that this tool gives maximum creative power to marketing experts to get whatever they are looking forward to in the respective video.
Timeline Control
With this online animation app, you will also get the full timeline control attribute to get your video built according to requirements and convenience.
Ready-to-use templates of about 3000
There are more than 3000 templates for you to choose from to get the video customized exactly the way you want for your online marketing needs and requirements.
Offeo Features
Now let's see what you'll get inside this simple yet powerful platform. Offeo comes with lots of powerful features that help transcend your ideas into videos. Some of the widely popular features are given below-
Video Templates
You'll have access to thousands of ready-to-use templates that you can use to create stunning videos in minutes. And you can browse these in a variety of categories, including eCommerce templates, intro creators, logo openers, important dates, occasions, and more.
Tailored designs for Brands:
OFFEO offers tailored tools and a lot of designs to create eye-catching videos for your brand's business strategies. So that you can spread brand awareness with confidence and never run out of content.
Size customizer
You'll be able to create videos that are suitable for any Social Media platform. You can create Square & Vertical format videos for Instagram, Facebook, Twitter, LinkedIn, Pinterest, WhatsApp, and Tumblr. Also, create Landscape format videos for YouTube, Vimeo, Instagram, Facebook, Twitter, and LinkedIn.
Full Creative Control
Customize the design and animation of your video as much as you like. Customization features are easy to use, with no need for any advanced knowledge.
How about creating a stunning short video with just one image? You can create beautiful videos by applying the design of your choice from thousands of designs to an image.
Timeline Control
An easy-to-use visual timeline editor that allows you to set custom timing for your video elements. You can manually set when to Entrance, Emphasis, or Exit animation.
Background Remover
To make the video-making process even easier, the OFFEO video maker offers you a background remover tool. You'll be able to remove the background of your image with just a single click and create an amazing video with a great photo.
Royalty-Free Music
You'll have access to over 1000 cinema-quality world-class music for your video. All kinds of music in OFFEO are commercially licensed and royalty-free for you. They add fresh music tracks in their library every single week.
Huge Library Assets
For an added feature, you can also get huge assets with OFFEO. So, it will certainly help you get all the advantages of creative video creation.
1000 Music Library
This tool for creating video content will also include more than 1000 music libraries that will allow you to create unique and engaging videos. Another unique and authentic attribute that you get from this online animation software is that you can remove your image background without any hassle.
Image Background Remover
Free Tutorials
Through free tutorials, you can keep updated with the new features of online animation applications where you will have professionals to assist.
Other features of the OFFEO video editing tool
Suitable For Any Social Media Platform

Import PSD / PPT

Content Scheduler

Magic Resize

Live Chat & Email Support

Team Collaboration

Audio Control

Marketplace
Why Use OFFEO?
With Offeo, you don't need to create many videos in various sizes; instead, you need to create one video that you can use on any device and in any size. One size does fit all. This saves you a significant amount of time that you can put to better use.
Anyone may use the Offeo movie creator to create high-resolution videos by simply dragging and dropping objects from the library. Also included in the collection are royalty-free photos, film, world-class music, graphics, and much more.
Things that OFFEO Teach
I mentioned earlier that the OFFEO isn't just a tool for editing videos; it is also one for creating videos. By using the tool time and time again, you get to learn a who lot, and you obtain the ability to do certain things you couldn't do before.
Here are some of them:
Develop professional video ads to advertise your product/service, improve your brand and impress your audience with OFFEO without any prior experience with motion graphics or design.

Get access to some amazing OFFEO ready-made video ads Motion graphics templates that can be personalized to suit your brand and can then be used

Develop professional video advertisements using OFFEO from start to finish in no time.

To make your workflow simpler & quicker, get to know some OFFEO keyboard shortcuts!

Add & Animate various Design Elements ( Images, Videos, Text & Shapes )

Use cool effects such as fire, smoke, the flare of the lens, shock waves, energy, explosions, and much more!

Apply animated backgrounds

Export Your MP4, MOV, PNG AND/OR JPG Video Ad Formats

Apply some amazing color correction to your elements video ad

Apply Cool OFFEO Filters to Photos and Videos
Why OFFEO is a Superior Product
There are many products on the market that offer services that are quite similar to what OFFEO offers, however, not many stand a chance when placed side by side by it. This is because OFFEO is superior in many regards and it stands out because of many reasons.
OFFEO tool is designed in a way that is suitable for any online platform. Almost all variants of formats used on the internet are included with the tool. It includes square, vertical, and landscape formats.

It allows complete creative controls that make it easy to use without sacrificing the control that your brand needs in a completely customized design and animation.

The tool comes with an instant background remover in a single click

It also enables a one-click timeline controller in which you can decide when the graphic should enter and exit the screen.

The library gets updated automatically with the trend it includes all the brush strokes, watercolor texture, and animated icons.

OFFEO is available in 20 plus languages and an OFFEO Video editing tool
Upsides of OFFEO Online Video Maker
Speed
One of the major selling points of the OFEEO online video editor is speed. It has the ability to help you create top videos within a very short period of time – It's almost instantaneous.
Lifetime Access
Upon purchasing the OFFEO, you get access to an exclusive Facebook community to which you will have lifetime access. There, you can brainstorm with other users, ask questions, and virtually seek anything that will help you gain maximally from the product you just purchased.
Email Support
Asides from the Facebook community, you get access to live chat and email support, where you will get expert answers and technical solutions. This will also go a long way in helping out of situations that you might probably get stuck in.
Ease
Unlike comparable video-making tools, the OFEEO online video editor is easy to use. The interface is user-friendly, the terminologies are understandable, and the tools are not at all complex. In fact, when you pick a tool, you will be shown, by the app, how to use it to set up what you intend on setting up in your video. The whole essence of this tool is doing great stuff that professional video editors do without being a video editor.
Some other upsides of the Video Tool include;
Value for Money. This online program also allows you to get the best facilities that will empower you to achieve the best results. It's like a lifetime deal with a professional Motion Graphics Designer.
You can create a single-click animation.

Each template is customizable according to your brand.

With a drag & drop system, you can create video content easily.

Money-back guarantee
Cons of OFFEO Videomaker
3-Minute Limit
Unfortunately, you can't create videos that exceed three minutes with OFFEO. That makes sense, though, as this tool is targeted towards marketing purposes, so, really, you shouldn't be creating long videos. Anyway, that's a limit it has, and I thought you might as well know.
No mobile version
Who Can Use OFFEO?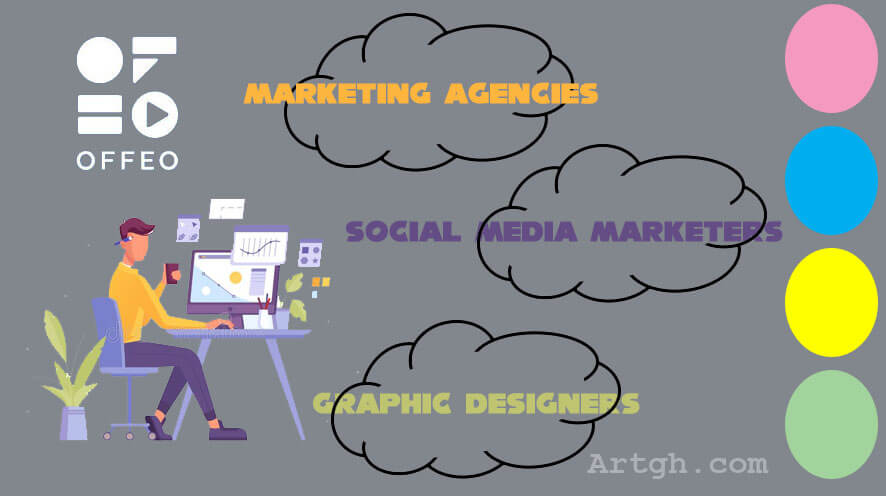 Generally speaking, anyone can use this tool. However, it was specifically designed for specific people, with some purposes in particular. That means that if you happen to be one of the following, you can rest easy knowing that you have all that you need for your Video content creation in OFFEO.
Marketing agencies
The marketing agencies that work with multiple brands can use the massive arsenal of drag-and-drop animated graphics and visual effects to create compelling short videos for any industry.
Social Media marketers
OFFEO Video editing tool is useful for people in social media marketing and who need to get better ROI for their clients and bring their creative ads to the next level.
Graphic Designers
This app is designed in such a way that graphic designers will enjoy full creative control, and the ability to bring their designs come alive.
Online OFFEO Reviews
"On one of our best performing ads made with Offeo, we had an amazing ROAS of 354x.
I like how you provide templates but give users the freedom to manipulate those as they see fit.
I'm no designer or creative by any means, but I'm able to create effective ads for my business due to the UI intuitive's nature."
Mario Lozano, Electric Studio, Digital Marketer
"Audiovisual content has become a necessity, whether your brand is huge or small. OFFEO allows us to provide agile responses with great quality, especially allowing us to provide branded animated content to low-budget clients while maximizing production times. No-brainer."
Ignacio Rusconi, Agencia Random, Argentina
"OFFEO has been a great tool in making engaging short promotional content for my company's Facebook Page. I noticed that clients are more prone to click on my business's posts when they are animated. I especially love the fact that I don't have to worry that the music will be muted due to copyright issues."
Lyndsay Roman, Margalithinc, Spain
Conclusion
OFFEO has stood out over the years as a video maker and video editing tool, and rightly so. It has numerous distinct features that set it way ahead of the pack, and it has positive reviews to back every claim up. With an emphasis on video content promotion and quality video content, OFFEO might as well be who you call on when you want to put out video content for your business.
>> Get Instant Access Now <<