Easyhomedily.com Grow Plants Landscaping
 The king of environment you live around matters a lot in your life. Plants are among the things that can make your surrounding a better place. Because of this, many people look forward to having a smart backyard or generally get involved in landscaping.
However, the big problem is that most of them do not know where to start. What to grow? How to grow it? When and where among other questions that are crucial in this area. Nevertheless, I am going to outline for you some of the steps that can help you in your home improvement.
http://www.youtube.com/watch?v=iMsI2ubL8GA
5 Easy to Grow Plants that Look Great in Your Backyard
 Having a smart looking and an attractive backyard takes a lot more than just looking for some plants and putting them there. You obviously need to know what to plant there. Will the type of plants you will grow their make the place beautiful?
Here are 5 easy plants that will give you an easy time and at the same time make your backyard look amazing.
Primula(Primrose)-One of the most amazing facts about these flowers is that they come in all colors. They are also easy to maintain. The primula are in 425 different species. All you need for it to provide moist soil and a shape. Some of the best colors include punk and red.
Astilbe-These type of flowers are well known to have different heights, bloom times and foliage colors. Planting different varieties will this provide a wonderful look at your backyard. The different varieties may come in different colors such as blue green, bronze, wine red or pale green.
Hydrangea-The flowers here will vary from pink to blue blooms. When planted in alkaline soils it will have pink blooms while in acidic soils it will have blue blooms. It is well known for its large clusters bloom.
Browallia-It is also called Bush Violet. The plant is mostly grow in warm weathers. Because of its tolerance in warm weathers it required little attention. Produces trumpet-like blooms.
Hellebore-It has thick petals and feathery leaves. It will mostly boom during early spring or late winter. It is also known as the winter rose. Comes with a variety of blooms from orange, yellow, white, pink, purple.
Top 3 Quick Landscaping Tips that Work
 If you love landscaping, then I think you should definitely start somewhere. You should know some of the tips that will help you succeed in this field.
Landscaping is enjoyable but you obviously need to accomplish something to enjoy the work. Here are three most important steps you can follow to do a good job.
Get Our Garden in Order
 This is the first step towards getting good results when it comes to landscaping. The garden is the base for better growth of any plant. Plants will utilize the garden to bloom and grow in the right way. From the nutrients, support and the right chemical factors.
This will start by cleaning the garden. Making sure that you clear any bushes and unwanted materials in that garden. Here is what to do. When preparing the garden, you must ensure that the garden is well prepared with the right leveling to ensure good root management.
Also, look at the soil structure of the garden. Different plants will require different soil structures. What about the chemical properties of the soil? Is the soil acidic or alkaline? Different plants will require PH conditions.
Choose Your Plants Wisely
You cannot make something out of your landscaping activities of you do not know the right plants to put in the ground. Consider your likes and dislikes, abilities and weakness, the location to get to the best plants for that area.
Here are some of the steps you can follow to identify the right plants.
Take a sample of the soil and study the chemical properties
Carry out a comprehensive research on the climate of the area.
Compare the findings with the ecological and botanical requirements of your proposed plants for the garden.
Get Ready for To Take Care of The Plants
 What should you do to make sure that the plants grow properly? What are the necessary care requirement for the plants? In landscaping, you need to take care of the plants.
Here are some of the activities you should prepare for to get better results in your landscaping activities.
Weeding
Fertilizer
Watering
Mulching
Trimming
Mowing
Collecting dead plants
Feeding the grass
Nevertheless, all these activities will require the right tools. Once you have organized the activities required for the landscaping you need to get the right tools to make your work easier.
How to Landscape During Different Seasons
 You may be worried that landscaping may be difficult during some seasons. However, do not worry. Here are tips you can follow to help you landscape during all seasons.
http://www.youtube.com/watch?v=iMsI2ubL8GA&t=3s
Landscape During Summer 
Here are the things you can do during summer to make sure that you are landscaping activities are still fruitful. The tips show you some of the maintenance measures you can take to ensure consistence throughout the season.
Alternating mowing patterns that will help you avoid creating ruts and strips.
Mowing on a regular basis during this season is important. You should also do this when there is the need. Do not remove the grass more than one-third of the height.
Watering the lawn is another very important factor. This should be down every morning. The watering should also be enough until your lawn receives at least 1inch.
Since is summer, you should consider the height of mowing. It is well known that taller grass can hold and tolerate the drought.
Landscape for The Winter
Here are the steps you can follow to maintain the lawn during this season.
There should be extra care to be taken during this season. Avoid walking on the lawn during this season.
You can add some nitrogen fertilizer towards the late winter in case the lawn is green.
Landscape During Spring
 Here you have to take good care of your lawn.
Make sure that you repair the dead patches
You can use the fertilizer when the snow has melted.
Aerating and detaching will help revive any weak lawns.
You can use pre emergent herbicide to treat crabgrass.
Landscape During the Fall
 These are some of the tips you can apply during your landscaping especially during the fall season. How do you take care of the lawn when leaves are falling?
Always be on the watch out to take care of the lawn that require maintenance.
Use a rake to remove the leaves when necessary.
You should also consider fertilizing the lawn.
How to Pick Your Next DIY Project
 When it comes to your next DIY project there are quiet numerous options to choose from. However, knowing which is your next and most preferred DIY project may be a tricky task as well depending on different factors. Some of these factors may include the cost, the workload involved or even your taste and the preference.
Nevertheless, you may decide to use different materials considering your next DIY project. Some of these materials include:
Metal-It is a more durable and strong material to use for your DIY project. However, it is associated with its own drawbacks. These may include: It is expensive as compared to others, bulk and difficult to handle sometimes.
Plastic-Very light material and can be carried easily. It is also cheaper as compared to other materials such as metal. However, one of its drawback is that it is not as durable as other materials such as metal.
Wood-Wood is a simple and less expensive material to handle. It may be used for many purposes.
After considering the type of material to use there are other facts to consider before choosing your next DIY project.
Interests
 Considering your interests. Your likes and dislikes is very crucial when trying to find the right DIY project. People's hobbies can direct them to their next best DIY projects. Your favorite crafting ideas will always work out best for your DIY project.
The Surrounding
 Your environment is very crucial as well when looking for a perfect DIY. The type of people around you will influence your decisions. Is what you are about to do something that will connect with them? Consider the type of materials around your environment. What is there and what is missing? By considering such factors will help you determine what type of projects you can work on.
Fencing
Herb boxes
Towel rails
Tools Available
 Any project you decide to start on will require skills and the right tools. This will require you to consider the type of tools available. Depending on the tools in place you can easily know which is the best next best project for you. Secondly, look at your skills. Are you able to use the tools available? Can you be able to use these tools? If so then you are good to go. By combining all the factors, I have listed above, you can come up with a perfect idea for your next project.
How TO Make a Small Garden for Your Backyard
 Do you have a very small backyard and you do not know what to do with it? Do you have difficulties finding the perfect garden to create on that backyard? Or what to plant in the garden? Then you should read what am I about to tell you keening.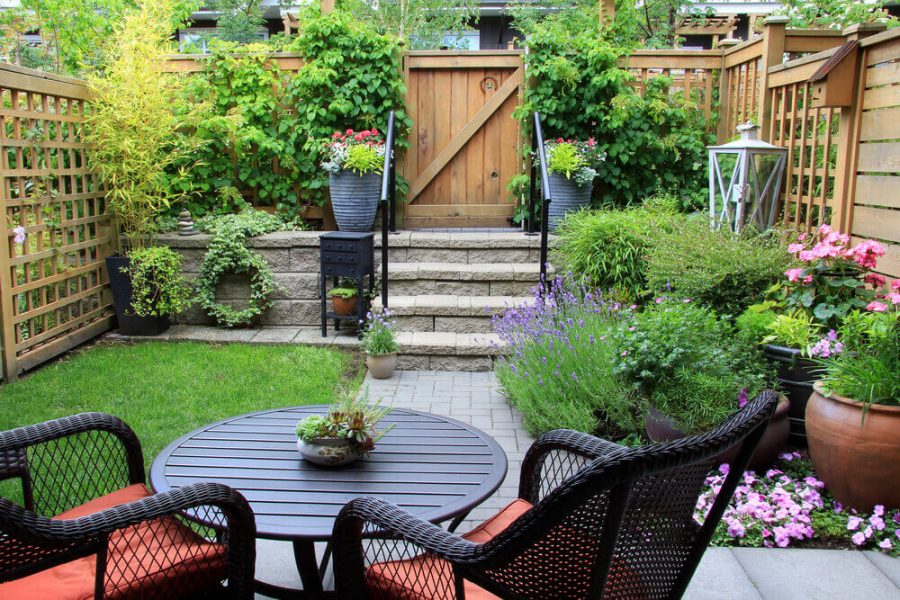 Here are some of the thing to consider before you start building that garden.
What Do You Want to Plant?
 Before you think of starting the garden you should have a perfect idea of what you want planted in that small garden. Since you have a small backyard, you obviously do not have much of options to choose from.
For someone looking forward to making a small garden because of the size of the backyard or other reasons, you may consider making a garden that will help you. You can choose to fill your small garden with flowers or vegetables. For the vegetable garden, you will get the advantage of saving some money to buy vegetables.
What is the Size of Your Backyard?
 The size of your backyard will definitely affect the size of your garden. If the backyard space is not an issue, then you also need to determine the size of the garden you want. Some of the factors that will affect the size of the garden include:
Type of plants you want in the garden
Number of plants you want in your small garden
Are you able to take care of a garden of that size?
Where to Spot Your Garden
 The location for your garden matters a lot. It will affect several things before you start the garden. The location will also affect the type of plants to plant. Depending on the location you can plant a number of plants. There are those plants demanding a lot of water.
This means that the garden must be close to a water point or must have access to a source of water. Full sun plants. If your garden is in a shaped location, then such plants cannot be grown. Consider the ecological requirements of the type of plants you are about to grow.
Digging Processes
 Once you have determined the type of plant you would wish to plant in your garden you need to know on how to dig the ground. Different plants will require different soil structures. Because of this, it is important to keening look at the plants requirements before you start digging. Once you are done with the digging procedures you can go on and plant.
5 Templates to Build Your Next DIY Project
 If you are looking forward to coming up with your next DIY project, then you can as well consider looking for a template that will help you come up with the best piece. However, sometimes it happens that you may face difficulties in coming up with the best structure. To help you create a smart structure, here are some of the templates that you can use to come up with your next DIY project.
Porch Swing
 This is a perfect template made to help you go through to create a porch swing. The templates are made with very clear instructions that will make everything simpler for you. After going through the DIY Porch Swing templates, you can make a simple and strong porch swing within a very short time. The templates are made by April Wilkerson. There is also a free download that you can easily access.
Shed Template
 It is another wonderful template that provides comprehensive details or instructions for creating your own shed from scratch.
Building Up a Website
 Did you know that a website can be your next DIY? You can decide to come up with a website for your next DIY project. The program will provide you with a comprehensive guide on how to do it.
Google Cardboard Viewer
 You can choose to create a perfect DIY in the computer networks. Technology and information is so much fun. This will help create a google cardboard in a simple way.
A Bird Feeder Wreath
 This is also one of the simple and still fantastic DIY project that you can decide to undertake. You can learn on how to make one here.
5 Easy Backyard Improvements You Can Make
 The backyard is one of the places where you can make quite several improvements to make it more attractive or to suit your taste. Here are five simple ways you can do this:
Creating A Theme Based Garden
 This is one of the great improvements that you can make. By creating a garden that is based on a theme you like, you will not only make your backyard more attractive but you will also bring out your personality in it.
Putting Up a Fire Pit
 Fire pits add a touch of light and wonder to your backyard. So why don't you make your backyard look more wow today by adding a fire pit there.
Setting Up a Trellis
Trellises can make your backyard take away the breaths of those who set their eyes on it. When you put up a trellis pick a choice that suits your taste or adds to the theme of the backyard. You can also plant vines to grow on its sides and make it even more amazing.
Setting Up an Outdoor Movie Spot
You can break the monotony of watching movies while inside the house by putting this up in your backyard. Although it might be a little expensive it would be just worth it.
Creating A Fairy Tale Based Set-up
Are you an epic tales fan? Well why don't you convert your backyard into a fairy world look alike? It's quite easy, for example if you have a tree stump in your backyard you can convert it into fairy house or even a gnome house based on what you like.